Multi Family Residential Developments
Apartment Community
Owings Mills, MD.
As you look at this project it looks like a newer multifamily building. It may surprise you to learn that this an affordable housing project, which is a growing part of our work portfolio. It was also an infill project that protected an environmental area in the center of the site and required a large underground storm water management vault.
Baltimore County is under a decent decree to provide more affordable housing, and this project helps to satisfy that decree.
Assisted Living Facility
Timonium, MD.
We have been working on "infill" sites for many years. This project is located in a very developed area of Timonium and the demographics make this location a viable project for the assisted living business model.
These projects often are very constrained and require compatibility studies, zoning relief and complicated storm water management facilities.
Apartment Village and Mixed-Use
Owings Mills, MD.
Apartment Community
Owings Mills, MD.
Apartment Community
The City of Frederick, MD.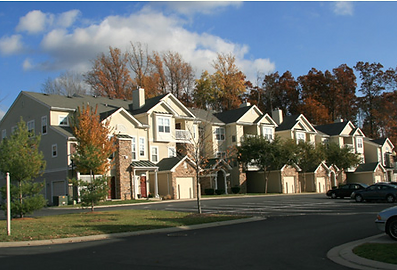 Multi-family Living
A multi-family apartment complex planned to maximize the density and effective use of the property while incorporating newly adopted open space requirements. Beyond the property, a community pathway was incorporated through an environmentally sensitive area interconnecting the development with a community park to provide green space.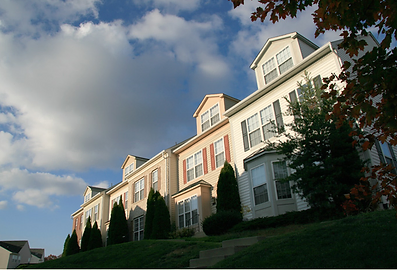 Living on the Mews
A +200-acre community of single-family detached, single-family attached and multi-family homes together with a community center and a day care facility. This section of the community was designed on the concept of a mews, or common green. This was one of the first projects in Baltimore County to incorporate the concept of rear-entry garages, thereby creating frontage on a mews. The community is connected with pathways that ultimately lead to the local elementary and high schools.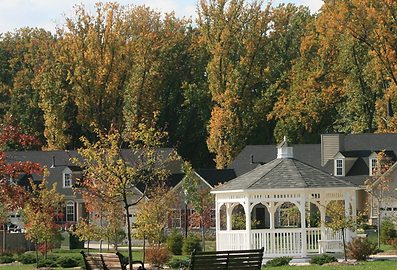 Living on the Village Green
An infill community in an historic village designed around extensive environmental features. This project utilized villas and multi-family homes around a centralized community center and incorporated a large central green with amenities including gazebos, seating, gardens and a bocce ball court.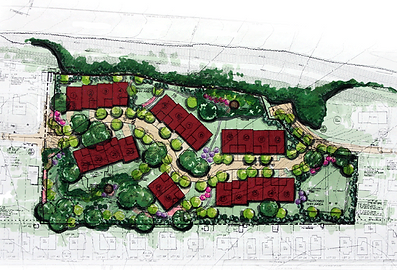 Infill Community
An infill community of villas tucked into a highly desirable established neighborhood. Large mature trees covered the site and homes were designed to retain the trees. This required many novel approaches to standard County design criteria. Within this private gated community, the roadway and villas meander around the stately trees, thereby providing the opportunity to stroll and relax under the expansive canopy.
​