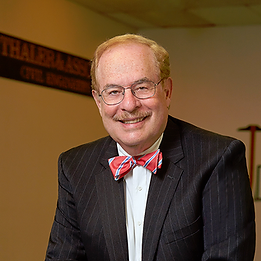 David S. Thaler, P.E., L.S., DFE,
D.WRE, FRGS, F. ASCE, F. NSPE
E-mail: dsthaler@dsthaler.com
Telephone: 410-944-3647
Honored repeatedly for his contributions to the industry, David is the only person in Maryland who is a Fellow of both the American Society of Civil Engineers and the National Society of Professional Engineers. He is a board certified Diplomate of both The American Academy of Water Resources Engineers and the National Academy of Forensic Engineers. In 2018, David won the PEPP award of the National Society of Professional Engineers as the Top Consulting Engineer in the United States, and in 2019 he won the NSPE award as the Top Professional Engineer in the nation. He was founding president of the Home Builders Association of Maryland Land Development Council, and was president of the Maryland Society of Professional Engineers. He also served as chair of the Baltimore County Chamber of Commerce in addition to being the president and managing principal of D.S. Thaler & Assoc., LLC. Formerly, he was a Visiting Scholar at the University of Baltimore School of Law where he lectured on Land Use.
David has been appointed to a variety of commissions and committees by the State of Maryland and Baltimore County, including Builders for the Bay; the Historic Sites Advisory Committee, which he chaired; the Task Force on the Preservation of State Streams; the Advisory Commission on Energy Utilization in New Building; and the Committee of the Maryland Building Code for the Handicapped. He served eight years on the Baltimore County Landmark Preservation Commission. He has spoken on land development and real estate issues for numerous professional organizations and institutions including the University of Baltimore School of Law, the Greater Baltimore Board of Realtors, the University of Maryland School of Architecture, the Alliance for the Chesapeake Bay, Johns Hopkins University, and Lehigh University.
In 2000, David traveled to St. Petersburg, Russia as a member of the Rule of Law Project sponsored by the U.S. State Department to advise on the privatization of land for the first time since the Russian Revolution. He has published more than 250 articles, five books, has qualified as an expert witness before many courts and hearing bodies, and has testified before the United States Congress.
David holds a B.S in civil engineering, an M.B.A. in Management, and an M.A. in economics from Lehigh University. In addition, he completed all of the requirements for a Ph.D. in business & economics with the exception of a dissertation. David has served in numerous capacities for many non-profit organizations including as Pipe Major of the Baltimore Police Department Ceremonial Unit. For many years he served as a Trustee and Senior Officer of the Maryland Historical Society. David served as a Col. (MD ret.) in the 121st Maryland Engineer Regiment.